TIM CLARK
An unsung hero of stand-up comedy - the current master of this underrated art - The Guardian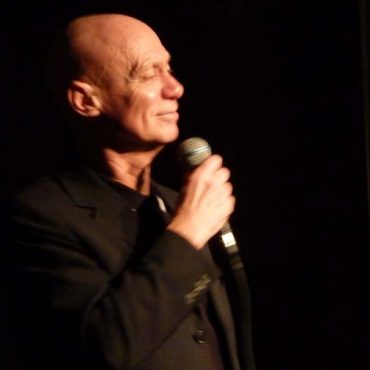 Watch Video
Book This Comedian
Tim Clark has one of the most recognisable faces in British comedy – and not just because he is very tall, pale and completely bald.
As a comedian, Tim Clark has been working for nearly 20 years honing his craft as a straight stand-up, a much-in-demand compere and a regular corporate host. He is also a successful writer and actor.

As a host, comic Tim Clark has travelled the length and breadth of Britain and worked with almost every comic in the business in his 20 years. In January, 1990 Tim Clark helped bring comedy to the west country by launching the first Pillar Talk show at the Pillar Room in the Cheltenham Town Hall, an entertainment venue which has was to play a major part in the careers of some of the top TV acts in the UK including Simon Pegg, Mark Lamarr, Bill Bailey and Frank Skinner, comedians with whom Tim Clark later toured.
Tim Clark has toured extensively throughout the UK, Europe (including Kosovo and Bosnia and in Asia. In 1995, comedian became the first western comic to perform in Beijing, China.
Alongside Danny Kelly, Tim Clark co-hosted the sports phone-in show Under the Moon on Channel 4 in 1997 and in the same year hosted the BBC revival of Give Us a Clue.
Tim Clark is also a writer on the BBC Sports Personality of the Year awards and was co-writer with the legendary comedian Barry Cryer for the BBC comedy series The Stand-up Show. He has also written material for many well known entertainers and comedians including stand-up turned television presenter Jonathan Ross, Phill Jupitus and Mark Lamarr.
His sporting knowledge has also seen comedian Tim Clark appear as a guest several times on BBC Radio 5 Live's sporting comedy quiz show Fighting Talk. It has also enabled him to write speeches for former football manager Graham 'Do I Not Like That' Taylor, former Liverpool, West Ham and England footballer and I'm A Celebrity star Neil Ruddock. Less easy to explain is how he came to write speeches for Prime Minister Gordon Brown.
As part of Channel 4 sitcom Festival in 1995, comic Tim Clark also wrote the play The Beautiful Game, a 30-minute piece about two football fans, which was later performed in front of a live audience at the Riverside Studios, London. Tim Clark has had further plays produced at the Liverpool Playhouse and at London's and in London, including Six Pack, with fellow comic Mickey Hutton.
At the 2002 Edinburgh Fringe, Tim performed his one-man drama, Talking to Ted, about a small-time comedian talking to his daughter's teddy bear about his problems including a cocaine habit and an illegittmate son courtesy of his Welsh mistress. The show was later broadcast in 2004 on BBC Radio 4 with TV presenter and comedian Les Dennis taking up the main role.
Tim Clark returned to Edinburgh in in an acting role in 2006 with the Fringe First production of What I Heard About Iraq, using direct quotes and statistics from the people and events that surrounded the war on Iraq.
Tim Clark also became easily recognised as the face of death for a while from his appearance as The Grim Reaper on the Virgin Atlantic TV adverts. By way of contrast he took the role of Santa (although it is an anagram of Satan) in the 2006 short film The Bed Guy.
Again not just assigned to stand-up comedy, Tim Clark starred alongside Nina Pasale in Graeme Cole's Pilot for a 22nd Century Sitcom as a scientist whose wife has stopped doing the house work fearing an impending nuclear war.
He has recently completed his first book he Shot about the rivalry between a burnt-out stand-up comedian and his former friend, a big shot TV celebrity and entertainer.
UPCOMING EVENTS
Tim Clark will be performing at the following events, don't miss out.
Testimonials of Tim Clark
An unsung hero of stand-up comedy - the current master of this underrated art
..hides his considerable skill behind a blokeish mask of bonhomie which appears absolutely effortless in construction
I contacted The Comedy Club at short notice to book Tim Clark, they were very helpful in securing his services and responded with efficiency and speed to any questions
Everything was perfect – thanks
The Comedy Club Limited do not act as a forwarding address for any of the artistes listed within this website. Due to the Data Protection Act, under no circumstances do we issue any artistes contact details or accept requests for autographs or deal with journalistc enquiries unless the artistes in question have been secured through The Comedy Club for your event.