THE RAYMOND & MR TIMPKINS REVUE
One of the most important acts to emerge from the UK comedy circuit in the last 20 years - Evening Standard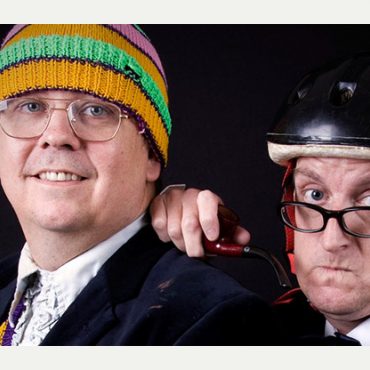 Watch Video
Book This Comedian
They are the co-operative that bring the vigour, pace and joy to any event and love to have a laugh.
With light mindedness, hyperactivity and more than a bundle of undemanding jokes, Raymond & Timpkins are such an uplifting act the audience instantly feels at ease transporting even the meekest of reluctant comedy-goers to quivering, giggling seat-wetters! Here we have a terpsichorean twosome who have plundered the pop world for inspiration to delight and perplex audiences from the Isles of Falkand to the badlands of north eastern Denmark. Brace yourselves Britain....not really stand up and not really circus but all cabaret and that really should be enough for you.
UPCOMING EVENTS
The Raymond & Mr Timpkins Revue will be performing at the following events, don't miss out.
Testimonials of The Raymond & Mr Timpkins Revue
One of the most important acts to emerge from the UK comedy circuit in the last 20 years
A mad, anarchic triumph of stupidity over style. Not to be missed
Watching these guys get the first standing ovation of the day at the Festival of Comedy made the hairs on the back of my neck stand-up – everybody, and I mean everybody was on their feet and the cheers were out of this world
I've seen them on Britains Got Talent
The Comedy Club Limited do not act as a forwarding address for any of the artistes listed within this website. Due to the Data Protection Act, under no circumstances do we issue any artistes contact details or accept requests for autographs or deal with journalistc enquiries unless the artistes in question have been secured through The Comedy Club for your event.