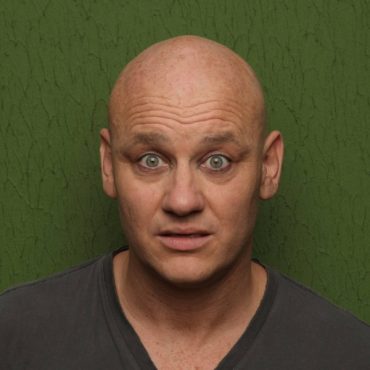 Watch Video
Book This Comedian
A full-on 100mph comedian, stand-up comic Terry Alderton uses his body and an immense and unique vocal range to hurtle audiences through an ad-libbed riot of exuberant, loose-limbed physical comedy at its very best. From the moment Terry Alderton was spotted at the legendary Joker Comedy Club in Southend – also home to Lee Evans among others – comedy star Terry Alderton has always been something special. With a set full of extraordinary caricatures – including his own nasty alter-ego – some stunningly acute impressions and observations and a hyperactive delivery, Stand-up performer Terry Alderton is loved by comics and fans alike. Indeed, top TV comedian Eddie Izzard said of him: "He's a very funny man with a 'fantastic comedy mind, but someone who really ought to seek some sort of professional help". Essex boy Terry Alderton has, by his own admission, enjoyed something of an up-and-down television career since exploding on the scene with a Perrier nomination back in 1999. On the back of that Perrier nomination, the former Southend goalkeeper (as he is referred to in every article about him) found himself suddenly centre-stage and hosting the BBC's flagship Saturday night Lottery show with Lulu of all people. As Terry Alderton himself says of that experience:"Well, I didn't know did I?" For while Red Alert took Terry Alderton into the mainstream it also took him away from the cutting edge of live stand-up comedy that he loves and does best. That's where Terry Alderton's performance on 2010's Michael McIntyre's Comedy Roadshow (BBC) and 2011's Edinburgh Comedy Fest Live (Ch4) brought everything back into place.
A versatile performer, comedian Terry Alderton has also enjoyed considerable success as both a comic and straight actor, appearing as a fireman in long-running hit ITV drama London's Burning in 2002, Holby City, The Bill and Waking The Dead and as a yardie gangster in Guy Ritchie's seminal Brit-flick Lock, Stock and Two Smoking Barrels. The multi-talented comedian Terry Alderton has also used his footballer's knowledge and experience to host in his own radio show, Terry's Turnstiles on London's Capital Radio FM and as a football presenter on the now defunct Setanta Sports News Channel. Following an impressive display in goal for the celebrity's team in the Sky One reality television series, The Match, Terry Alderton even briefly returned to playing football with Southend when the club re-signed him, after injuries weakened their squad, He currently presents a number of video shows on Virgin Media Sport. His characters include Mr Sheepskin and TV hard-man Danny Dire. But it is the live arena that Terry Alderton moves best as shown with a series of rapturous reviews for his recent Edinburgh shows and his subsequent return to the capital. Older and wiser he may be, but stand-up comedian Terry Alderton is still as madly funny as ever. Born in Southend in 1970, Terry lives with his wife and best friend Dee, and is soon to become a father. Other television appearances have included Ian Wright's Friday Night's All Wright' (ITV), 'Stupid Punts' (BBC2), The Stand UP Show (BBC1) The World Stands Up(paramount) World Comedy Tour Australia(paramount) Question of TV(BBC1) Shoot The Messenger(Paramount) , Saturday Live (ITV),Night Fever (Channel 5), two series of The Comedy Store (Channel 5) The Lads ITV Jack Dee's Sunday Service. Bring me the head of light entertainment (CH5). The Harry Hill Show (CH4). The Jonathan Ross Show. Edinburgh or Bust (CH4) Wogan BBC. Des & Mel (ITV). The Wright Stuff (CH5).The Royal Variety Performance (ITV). It Shouldn't happen to an Awards Presenter (ITV) The Brian Connelly Show. His film work has included, Black Ball (directed by Mel Smith) and Keeping Mum, The Jam, The Bird House, Oblivious…
The Comedy Club Limited do not act as a forwarding address for any of the artistes listed within this website. Due to the Data Protection Act, under no circumstances do we issue any artistes contact details or accept requests for autographs or deal with journalistc enquiries unless the artistes in question have been secured through The Comedy Club for your event.