TAPE FACE
"A glorious act of the imagination, an expression of pure playfulness….This boy is going places!" - The Times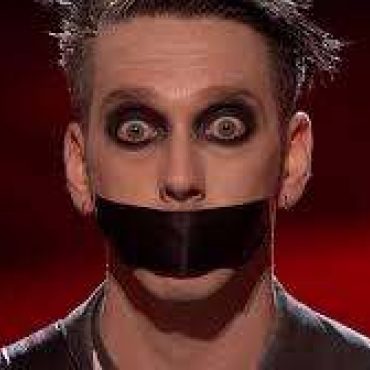 Watch Video
Book This Comedian
Tape Face is a character with universal appeal. Delightful, wry, many-layered and hilarious, Wills accesses an inner child in us all that must be fed. Through simple, clever and charming humour aimed at satisfying that hunger, Tape Face has created one of the most accessible and enjoyable shows the world has ever seen.
Drawing on a heritage that includes silent film, mime, magic, puppetry, Motown and the films of Patrick Swayze, Tape Face is a pensive, curious soul approaching every object and audience member as a potential friend – or plaything. Shoes sing, empty dresses dance and electrical tape blossoms into roses, Wills creates a world of possibilities where the only certainty is laughter.
Britain's favourite silent Comedian, Tape Face performed on season 11 of America's Got Talent, which was aired on NBC to an estimated 11 million viewers. The audition has so far been viewed over 47 million times on youtube. He completely won over every audience he performed to, and after many rounds, and much strong competition, became a celebrated Finalist - receiving standing ovations with his totally unique style.
Following a stunning 2016 - during which he made his debut in Las Vegas, reached the finals of America's Got Talent, became a viral sensation as one of the most viewed videos in AGT history, completed a sold-out 52 date tour of some of the UK's most iconic venues and successfully persuaded a Spice Girl to wear a toilet seat on her head, live on American TV, in front of an audience of over 14 million! – Tape Face performed his highly-anticipated residency at the Flamingo, Las Vegas. Tape Face will then go on a limited US regional tour in May, bringing fans his unique show, his appeal having transcended boundaries of age, language and culture.
From June to July he performs in London's West End at the Garrick Theatre, then goes onto Edinburgh Festival Fringe for the entirety of August.
Think you've seen TAPE FACE? Think again. This year promises to be a bigger, brighter and more spectacular re-imagining of his unique and special brand of silent comedy. This truly is comedy made for everyone, be prepared to get involved and enraptured as you step inside a comedy world unlike any other. Visually stunning, heart-stopping, and hilarious - you'll laugh, you'll cry, and when it's all over you'll be completely lost for words.
Credits
NBC
- America's Got Talent |
BBC1
- The Royal Variety Performance |
ITV 1
- Comedy Rocks
Testimonials of Tape Face
"A glorious act of the imagination, an expression of pure playfulness….This boy is going places!"
The Comedy Club Limited do not act as a forwarding address for any of the artistes listed within this website. Due to the Data Protection Act, under no circumstances do we issue any artistes contact details or accept requests for autographs or deal with journalistc enquiries unless the artistes in question have been secured through The Comedy Club for your event.