STEVE DAY
a perfect festival show the laughs come thick and fast ***** - Chortle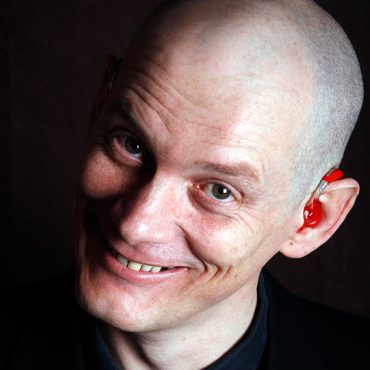 Watch Video
Book This Comedian
Steve Day is a truly unique comedian - warm, witty and engaging whilst dealing with the dilemmas of being a deaf man in a hearing world.
His stories of multiple children, wearing a suit and the problems caused by not knowing how words are pronounced will have audiences in raptures, and his uplifting tales of overcoming the obstacles in his path will leave crowds feeling inspired.

Steve is a favourite at many venues across the UK and abroad, and is quickly establishing himself as one of the most popular and respected acts on the circuit.

He has become a familiar voice on BBC Radio 4, contributing regular to 'You and Yours', featuring in a half-hour special of 'No Triumph, No Tragedy' and starring alongside Caroline Quentin and Patricia Routledge in 'The Sound Barrier'. Steve was also a staff writer on Radio 2's long-running 'The News Huddlines' and has appeared on numerous TV shows, most notable Channel 4's 'Natural Born Talent' and Sky's 'Abnormally Funny People'. He is currently working on a sitcom, and early treatments for an adaptation of his stage show 'A Night At The Pictures' have met with enthusiasm and excitement.

In 2005 Steve went on his first national tour of arts centres and theatres, with an updated version of his Edinburgh Fringe show 'Deaf In The Afternoon'. This tour was so successful that it went on the road again later in the same year, in total playing to over 30 venues around the UK, Denmark, Ireland and Italy. In 2006 Steve took his latest show 'A Night At The Pictures' on the road for a mini-tour, playing 10 dates around the UK to both audience and critical acclaim, with a further stand-up tour planned for 2008.

Live Work

Should I Stay Or Should I Go?
August 2008 / Edinburgh Fringe
Deafy's Island Discs
January-June 2008 / national tour
Deafy's Island Discs
August 2007 / Edinburgh Fringe
Comprehensive
August 2006 / Edinburgh Fringe
A Night At The Pictures
February-March 2006 / national tour
A Night At The Pictures
August 2005 / Edinburgh Fringe
Deaf In The Evening
September-November 2005 / national tour
Deaf In The Evening
February-May 2005 / national tour
Deaf In The Afternoon
August 2002 / Edinburgh Fringe
Credits
The News Quiz
BBC Radio 4 / February 2009 / guest writer
Richard Bacon Show
BBC Radio 5 Live / July 2008 - current / regular guest
Evening Paper Review
Sky News / July 2008 - current / regular guest
Trisha Goddard Show
Radio City (Liverpool) / May 2008 / guest
Leicester Comedy Festival Gala Launch
BBC7 / January 2008 / performer
Deafy's Island Discs
BBC Radio 4 / August 2007 / writer-performer
Ian Collins Show
TalkSport Radio / Spring 2007 '' current / guest
Disability Rights Commission
internet ad campaign / Spring 2007 / performer
Movie Cafe
BBC Radio Scotland / March 2007 / reviewer
Quiet London
TimeOut London / 27th June 2006 / writer
The Sound Barrier
BBC Radio 4 / October 2005 / ''Colin'' (lead role)
Steve Day Column
One in Seven / RNID / June 2005 - current / writer
Abnormally Funny People
Outline Productions for Sky TV / January 2006 / performer
You and Yours
BBC Radio 4 / June 2005 - current / writer-contributor
No Triumph, No Tragedy
BBC Radio 4 / February 2005 / performer
All Fingers And Thumbs
Above The Title for BBC Radio 4 / December 2004 / ''Michael''
Raspberry Ripple (pilot)
Outline Productions for BBC Three / April 2004 / writer-performer
Natural Born Talent
Channel 4 / 2003 / performer
The News Huddlines
BBC Radio 2 / 1999-2001 / writer
Private and Corporate Work
Home Office, Foreign & Commonwealth Office, London School of Economics, EDS, Redhill Analysts, Thompson Holidays, Barclays Bank, Citizens' Advice Bureau, all major political party conferences, various Primary Care Trusts, numerous Disability and Equality events.
Testimonials of Steve Day
a perfect festival show the laughs come thick and fast *****
a truly lovely little show it doesn't really get much better ****
funny, insightful and illuminating
very funny, warm but without tiresome sentimentality, and intelligently life-affirming ****
absolutely wonderful Day has moved up to the premier league of stand-up
effortlessly funny and refreshing to watch - his storytelling is hilarious
revelatory and very funny
Day's remarkably hilarious take on his own deafness was particularly entertaining and original
warm, funny, frank and thought-provoking
the best comedy often comes from real-life observations, something that Day had down to a T
a very different kind of comedy ... something which Day seems particularly proud of, and so he should be
a hilarious, hard-of-hearing, heavenly host
has a self-effacing charm which endears him to audiences
The Comedy Club Limited do not act as a forwarding address for any of the artistes listed within this website. Due to the Data Protection Act, under no circumstances do we issue any artistes contact details or accept requests for autographs or deal with journalistc enquiries unless the artistes in question have been secured through The Comedy Club for your event.