SOL BERNSTEIN
One part Alf Garnett, two parts Mel Brooks, and three parts like nothing you've ever heard - The Guardian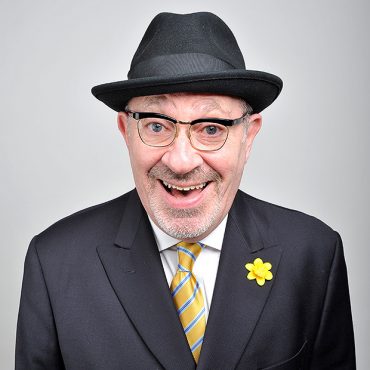 Watch Video
Book This Comedian
Sol Bernstein is the comic creation of Steve Jameson, who himself is a top performer. Sol is very much in demanded heading all the major Comedy Clubs in the UK & Beyond. As the story goes, the legend that is Sol Bernstein escaped the Pogroms in Russia, the Nazis in Germany, and went on to become the World's 1st all-round entertainer. Sol shares tales of the high life with the biggest names in showbiz, and his views on how the world has changed. He is just ordinary Jew with amazing wit, charm and death- defying chutzpah! His career has taken him to perform alongside The Beatles, Elvis &Judy Garland, and has appeared at such prestigious venues including The London Palladium, New York's Carnegie Hall, The Paris Olympia and Caesars Palace in Las Vegas.   Sol Bernstein has now reached that point, where he invites us to listen to his tales of the high life with the biggest names in showbiz, musings on how the world has changed, and being just an ordinary Jew with world-beating wit, unbounded talent and death-defying chutzpah. Now in his 80's, Sol has so much to say, and little time to say it! – Go catch this legend while you can.
Credits
Comedy Central
- Edinburgh & Beyond
Testimonials of Sol Bernstein
One part Alf Garnett, two parts Mel Brooks, and three parts like nothing you've ever heard
"like a good salt beef sandwich with laughs... YOU REALLY SHOULD SEE HIM SOON"
"Simply my favourite comic – the funniest hour you'll spend this summer"
The Comedy Club Limited do not act as a forwarding address for any of the artistes listed within this website. Due to the Data Protection Act, under no circumstances do we issue any artistes contact details or accept requests for autographs or deal with journalistc enquiries unless the artistes in question have been secured through The Comedy Club for your event.