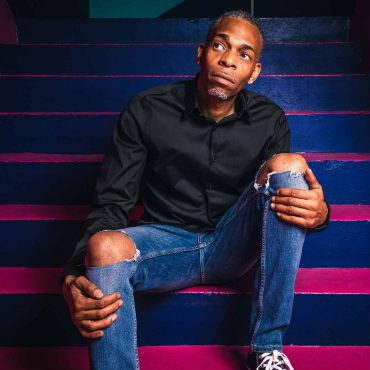 Watch Video
Book This Comedian
Original and versatile. He appeals to all ages, genders, race and nationalities and has the ability to capture different aspects of everyday life and twist it into his own brand of comedy. He was born in South London, England of Jamaican parentage.

Slim first performed in 1993 at the Hackney Empire in front of an audience of 1,500 people. Since then he has appeared in every major city in England and Wales ranging from Manchester, Birmingham, Bristol, Nottingham, Liverpool and Cardiff, these are just a few of many.

He also has experience internationally touring in Europe ,The Caribbean and the U.S.A.

In Holland he performed in Eindhoven, Rotterdam, Utrecht and Amsterdam at the world famous Nieuwe De La Mar Theatre. Slim has also toured in Germany on the USA Army Base Tour 2001, which he performed so well, he was then asked to perform in front of military personnel at N.A.T.O Headquarters in Belgium.

Slim has brought his act across the Atlantic to the Caribbean, where Jamaica saw him perform at their Annual Red Stripe Comedy Tour (2005). He performed alongside Def Comedy Jam comics, being the only black British comedian ever to perform on the Caribbean island.

Slim has supported acts such as John Witherspoon (Star of Friday and Boomerang), Felix Dexter (star of BBC2 Absolutely Fabulous), Robbie Gee (star of Guy Ritchie's film 'Snatch') Also 2005 saw him play host to Americans: Bill Bellemy (Star of Def Comedy Jams ''How to be a player''), Kevin Hart (star of 'Soul Plane , Paper Soldiers''Mark Curry (star of ''Hanging with Mr.Cooper'') who he supported on their UK tours. After the ''Bill Bellemy'' tour, Slim was invited back to L.A where he became the 1st Black U.K comic to perform at the world famous Hollywood Comedy Store in Feb 2005.

After winning the''Best Male'' stand-up category at the 2004 U.K Black Entertainment Comedy Awards , Slim was then voted in 2005 by other black British comics as there favourite comedian !!

Slim was the warm up man for the BBC comedy sketch show ''Little Miss Jocelyn''and was the Host for Latino stand-up comedian Pablo Francisco's 1st U.K Show held in London.

In 2006, Slim returned to L.A and performed at The Comedy Store and The Laugh Factory where he was voted by the audience to be the Best open spot on the night!

In Nov 2006 also saw Slim return to Holland to perform in the city of Rotterdam at the world famous Comedy Factory which was filmed for television.

His other work credits include:

Appeared on BBC2's sketch comedy show 'The A Force' (1997 and 2000)

Appeared on Channel Four's 'Nights Out at the Empire' (1999)

warm- up man for MTV's dating game 'Singled Out' (1999- 2002)

warm- up man for 'The Richard Blackwood Show' (Pilot) Channel 4 (2001)

Runner up (7th out of 300 contestants) for the U.K Comedy Stores Hooch Comedy Award (2001)

Appeared on BBC2's drama 'Attachments' (2002)

Comparing for American R&B group ATL's London concert (2004)

Winner of Best U.K Black Male Stand Up Comedian at the Black Entertainment Comedy Awards (2004)

Host of 'Comedy Street' Comedy Night in Leicester Square in the London's West End (2004 to 2005)

Voted comics favourite comedian (2005)

Warm'up man for The 'Little Miss Jocelyn show' (2006) BBC.

Host for Latino stand-up Pablo Francisco

Appeared on the Comedy Factory T.V show (2006)

Slim recently sold out his one man show I AM SLIM at the Hackney Empire before a short UK tour. He is performing at Glastonbury Festival this year and is a regular on the Jongleurs comedy circuit.
The Comedy Club Limited do not act as a forwarding address for any of the artistes listed within this website. Due to the Data Protection Act, under no circumstances do we issue any artistes contact details or accept requests for autographs or deal with journalistc enquiries unless the artistes in question have been secured through The Comedy Club for your event.