RICKY GROVER
Thank god for Ricky Grover - Evening Standard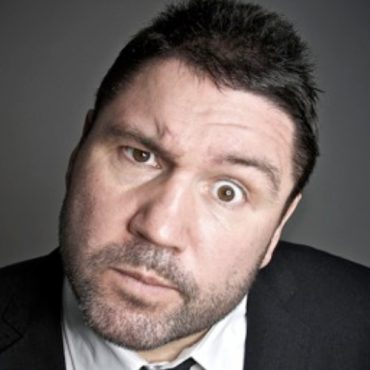 Watch Video
Book This Comedian
Ricky Grover

Never one to shy away from... well virtually anything, Ricky Grover is more than a personality; he's an East End icon. With the attitude to match his size, this cockney geezer is everything you'd expect him to be having been a boxer and a hairdresser. On one hand Ricky is tough and powerful, but just before a stereotype is formed it will be shot down with clever interaction with the audience and a clear understanding of the world around him. Got a tough crowd? Why not get someone tougher!
Born and bred in London's East End, Ricky tried his hand as a hairdresser and a boxer before becoming an actor/writer/comedian and stalwart of the UK comedy circuit and the Edinburgh Fringe Festival. Illiterate until he was in his early thirties, he is now a prolific, award-winning writer. His gangster character Bulla was not only featured on Channel 4's The 11 O'Clock Show but was interviewed on BBC TV by one of Bulla's biggest fans - the one-and-only chat show host Michael Parkinson. He voiced the part of Yangus for best-selling video game Dragon Quest, presented the critically-acclaimed documentary F*** Off I'm Fat for BBC TV. On TV Most recently Ricky appeared on Eastenders as Andrew Cotton, and starred in the new run of Porridge last year as the tough inmate 'Scudds'
Credits
BBC 1
- Eastenders |
Channel 4
- The 11 O'clock Show, |
FILMS
- Revolver, Cargo , Dead Cert, Big Fat Gypsy Gangster |
BBC1
- Porridge 2017 |
ITV
- Tonight With Trevor McDonald
Testimonials of Ricky Grover
Thank god for Ricky Grover
The funniest person I've ever seen
"The Comedy Club's recommended corporate comedian Ricky Grover went down really well with the audience we had. He delivered a first class performance that everybody commented on positively.
"We booked Ricky Grover through The Comedy Club for our awards ceremony entertainment and he was very well received by the audience. Our aim for booking a comedian was to keep the buzz of the event going and he did that very well. The Comedy Club's level of service was faultless. They gave us a list of comedians for our budget and delivered on the night"
The Comedy Club Limited do not act as a forwarding address for any of the artistes listed within this website. Due to the Data Protection Act, under no circumstances do we issue any artistes contact details or accept requests for autographs or deal with journalistc enquiries unless the artistes in question have been secured through The Comedy Club for your event.