OTIZ CANNELLONI
Master of mirth and minimalist magic …delightful. - TIME OUT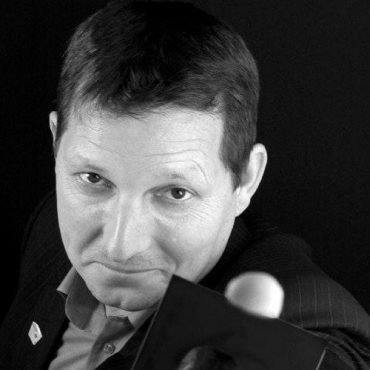 Watch Video
Book This Comedian
In a world where every comedian claims or strives to be unique, Otiz Cannelloni is just that - and not only because of that questionable name.
Billed a reluctant messiah and man of the people, with an O-level in woodwork, Otiz Cannelloni is probably best summed up as a mix of a crazy children's entertainer meeting an even madder messed-up magician, Otiz's act defies description and beggars belief - and audiences can't get enough of it. And neither can his peers. Otiz is loved and revered in the business as "a comics' comic", and wherever he performs, his usually cynical fellow comedians can be caught at the rear of the room, spellbound by his lunacy and laughing manically and with a jealous if appreciative glint in their eye. Like Tommy Cooper before him, Otiz combines the illusion of magic and the reality of stand up to produce a hybrid variety that shifts effortlessly between the three pillars of sheer genius, outright lunacy and utter stupidity. Just as you begin to suspect Otiz doesn't have a clue what he is doing on stage, he proves it for you beyond all doubt. But then it has taken him years of practice to make something so utterly straight-forward look quite so difficult. Citing influences as diverse as Laurel and Hardy, Dean Martin, Phil Silvers, William Shatner, Mae West, Chrissie Hynde, Bob Marley and Charles Darwin, it is no surprise that Canneloni is as mixed up as he is. Although stand-up Otiz Cannelloni's act is best seen live and in the flesh, Otiz has been allowed the odd (and indeed they were) appearance on television, having dismantled proceedings on The Stand Up Show for BBC 1 and Stuff The White Rabbit on BBC 2 although most of the producers are still struggling to come to terms with what they saw.
UPCOMING EVENTS
Otiz Cannelloni will be performing at the following events, don't miss out.
Testimonials of Otiz Cannelloni
Master of mirth and minimalist magic …delightful.
A magical wag - bewitching.
Sheer hilarity that no one wanted to see end.
Don't we have laws against this sort of thing?
The Comedy Club Limited do not act as a forwarding address for any of the artistes listed within this website. Due to the Data Protection Act, under no circumstances do we issue any artistes contact details or accept requests for autographs or deal with journalistc enquiries unless the artistes in question have been secured through The Comedy Club for your event.