OMID DJALILI
Rocks the audience! - Sunday Express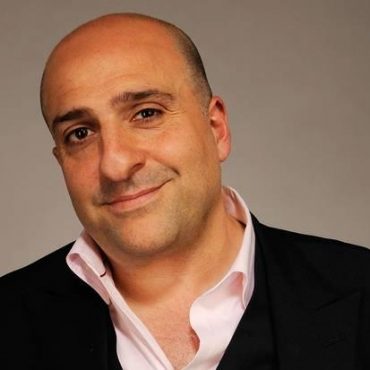 Watch Video
Book This Comedian
Omid Djalili has become a household name in recent years but he is no overnight success.
The Iranian comedian has actually been treading the comedy boards since the early 1990s with his first big break coming at the Edinburgh Festival in 1995 with his show Short, Fat Kebab Shop Owner's Son, followed a year later by The Arab and the Jew.
Omid Djalili regularly describes himself as the only Iranian comedian - "three more than German" - and has carved out a unique comic niche for himself.
He was actually born in Chelsea to Iranian Baha'i' parents, he went to school in HollandPark before going to the University of Ulster in Northern Ireland. Such a diverse background and upbringing allows him a unique comic take on multiculturalism and ethnic pecularities.
Switching constantly between his Iranian voice and the clipped tones of an English grammar schoolboy, audiences find it almost impossible to decide which is the real Djallili. A hyperactive and energetic stage style, combined with a remarkable talent for mimicry, allows him to deliver some sharp political humour while celebrating his sense of the ridiculous. He's even been known to indulge in a spot of belly dancing and singing when the mood takes him.
A veteran of the UK comedy circuit, Omid Djalili performed in numerous countries worldwide, including Australia, Ireland, Denmark, Canada, Germany and the United States, where he had his own HBO Special. He has even performed in Qatar by special request for the Emir when he shared a stage with Bill Clinton, another fan.
Now established as one of the funniest and most original comedians in the world, in 2005, he broke Edinburgh Festival box office records with over 16,500 ticket sales, while his 2007 tour No Agenda took in 23 venues and was recorded live for a top-selling DVD.
On TV, his proudest moment came when he was granted his own series, the Omid Djalili Show in 2007, with a second series following in 2009. He has also appeared on Comic Relief and We Are Most Amused for Prince Charles' birthday in 2008 and stole the show on an episode of Live At the Apollo, which is now one of the most requested and repeated shows on digital TV.Top stand-up comedian Omid Djalili is also much in demand as sepcial guest on panels, chat shows and quizzes and has appeared on everything from Have I Got News For You to Top Gear. In America, he also appeared in 22 episodes of the flagship sitcom Whoopi with Whoopi Goldberg.
Omid Djalili is the face of Sky TV's Saturday night movie premières, an apt choice because Omid also boasts a successful secondary career as an actor, performing both straight and comic roles, but always, in his own words, "as some sort of Arab". Among his films are Gladiator, Over The Hedge, The Mummy, Mean Machine, Alien Autopsy, Spy Game, Grow Your Own, Pirates of the Caribbean: At World's End and a "James Bond film" as the "Second Azerbaijani oil pipe attendant". He even picked up an international film award for Best Supporting Actor in Casanova.
His acting career really took off in July 2009, when he took over from Rowan Atkinson as Fagin in the record-breaking West End production of Oliver! at the Theatre Royal,Drury Lane, London.
Loved by fans and critics alike, in 2003, he was listed in The Observer as one of the 50 funniest acts in British comedy. He is also a former Perrier Award nominee. Omid Djalili went one better when he was voted best Stand-up Comedian in the Emmas, Time Out Awards and the LWT Comedy Awards and won the Spirit of the Fringe Award at the Edinburgh Festival. He also won a One World Media Award for his Channel 4 documentary Bloody Foreigners.

Testimonials of Omid Djalili
Omid's a short, fat, fantastic Fagin
The Comedy Club Limited do not act as a forwarding address for any of the artistes listed within this website. Due to the Data Protection Act, under no circumstances do we issue any artistes contact details or accept requests for autographs or deal with journalistc enquiries unless the artistes in question have been secured through The Comedy Club for your event.