MIKE GUNN
Mike Gunn will make you die laughing - The Guardian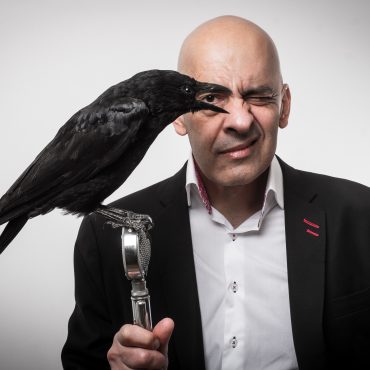 Watch Video
Book This Comedian
Mike Gunn is the iconic king of dry comedy.
Mike Gunn is one of the top 10 comedians in Britain today – Independent on Sunday. He is a headliner at all of the major comedy clubs today in the UK and abroad. He has taken two shows to the iconic Edinburgh Fringe Festival, with the first being a show based on his alter ego as a Funeral Director titled ' Good Grief' which he received critical acclaim for. This was followed up with 'Uncut' a show looking at recovery of drug addiction. Mike is also a top choice of act for corporate events. His stone cold delivery has been described as 'drier than a dead man's bones', but you can rest assured the audience will be roaring with laughter. Early on in his career Mike supported the likes of Alan Davies & Jo Brand. He has also embarked on a successful 35 date tour with friend and comedian Sean Collins. Gunn's writing credits include The 11 O Clock Show & Match of The Day Magazine – even though he hates football! More recently Mike supported Lee Mack on his UK tour.
Credits
BBC 1
- Michael McIntyre's Comedy Roadshow |
Channel 4
- Celebrity Deal or No Deal |
Sky 1
- Time & Gentlemen Please |
ITV1
- Harry Hills TV Burp
Testimonials of Mike Gunn
Mike Gunn will make you die laughing
One of the 10 leading stand-ups in Britain
The Comedy Club's service was very good and Mike was fantastic; he had us in stitches from start to finish and responded to our brief with a superbly tailored performance. Lots of people came up afterwards to say how much they enjoyed it, which after a long day at conference made this a highly enjoyable and memorable event - Mike was the perfect finale.
The Comedy Club's overall service was very good with clear and concise communication. Ian suggested Mike Gunn and this was a highly suitable choice
We had a great feedback regarding Mike Gunn's performance. He was simply brilliant!
The Comedy Club provided an excellent comedian whose tailored performance received very good feedback from all members of the audience - It was a very conservative crowd so i'm very pleased Mike rained in certain parts of his act for the sake of the night, but I would still love to see him let loose one day! We raised a fantastic amount of money and your service was very good. The Comedy Club called for background research and the comedian provided, Mike Gunn was very personable on the night, a very nice guy.
Mike did a great job on the evening we've had some really positive feedback from many who really enjoyed his set. The service provided by The Comedy Club as a whole was first class
Mike Gunn was very good and funny, an excellent service was provided. He controlled the audience in a funny manner. Thanks again.
I agree there was a lot of scope for Mike to create "actionable incidents" but I thought Mike got just the right balance and was actually very funny. Really was an excellent night.
Mike went down really well and the feedback has been nice.. it was very well received.
The Comedy Club Limited do not act as a forwarding address for any of the artistes listed within this website. Due to the Data Protection Act, under no circumstances do we issue any artistes contact details or accept requests for autographs or deal with journalistc enquiries unless the artistes in question have been secured through The Comedy Club for your event.