MICKEY SHARMA
"A very enjoyable, laugh a minute, roller coaster ride" - The List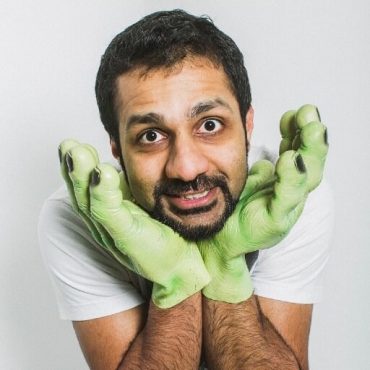 Watch Video
Book This Comedian
Top comedian Mickey Sharma is currently taking the circuit by storm
Mickey Sharma is an Indian that was born in Pakistan (its true!!) in 82 while his father was working for the Indian Embassy. After living in Pakistan, the family moved to Beijing, then Hong Kong, before finally moving back to India in 90 where he lived till 9th September 02 when he moved to Birmingham!!
Having endured various jobs like a waiter, shelf stacker, camera assistant and Bouncer, Mickey started comedy in July 09 and now works as a full time comic and travels all over the UK and sometimes abroad (Spain, Romania, India, Czech Republic)
Mickey Sharma can be seen performing in some of the biggest & best comedy clubs in the UK & Abroad.
This comic is nothing short of hilarious and his mix of comedy and another form of artistry (you will see what I mean) make him as unique as he is funny. A highly regarded act that will have you trying to copy his catchy material (unsuccessfully) for a long time after seeing him.
Look out for Mickey Sharma – He's going to be massive !
UPCOMING EVENTS
Mickey Sharma will be performing at the following events, don't miss out.
Testimonials of Mickey Sharma
"A very enjoyable, laugh a minute, roller coaster ride"
The Comedy Club Limited do not act as a forwarding address for any of the artistes listed within this website. Due to the Data Protection Act, under no circumstances do we issue any artistes contact details or accept requests for autographs or deal with journalistc enquiries unless the artistes in question have been secured through The Comedy Club for your event.