MARTIN BEAUMONT
Martin Beaumont's performance was fantastic - the guests very much enjoyed his performance and he was kind enough to personalise his set for us. Thank you Comedy Club - Atos Origin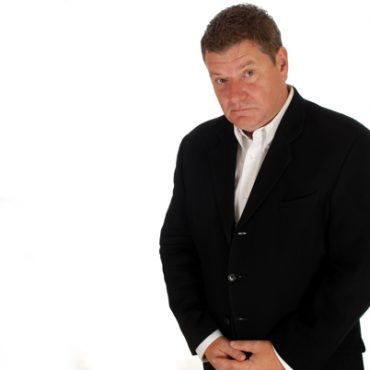 Watch Video
Book This Comedian
Once the scourge of white van men with a sell-out show devoted to the breed at the Edinburgh Festival, Martin Beaumont has expanded his outlook to take on all subjects and find the humour in everything.
With the ability to switch from character comedy to straight old-style stand-up, top stand-up Martin Beaumont's diversity ensures every show is different. King of the one-liner, the jokes come relentlessly, like a one-man mirth machine gun. Described as one of the nicest men in comedy, Martin Beaumont steamrollers the audience into laughter, with a punchline never more than a few seconds away.
A comedian who has clearly leaned his craft from the old masters, Martin Beaumont delights in wearing down the defences of even the hardest of audiences, with his huge array of carefully crafted and expertly delivered jokes inducing fits of the giggles not felt since being at school. With a wealth of experience behind him and a chatty, easy-going stage manner, he makes friends with every audience before him and is in constant demand as one of the best comperes on the circuit. A familiar face on television, Martin Beaumont has worked regularly with the famous Chris Tarrant on Who Wants To Be A Millionaire, and appeared in three series of Sky TV's football comedy Dream Team. A talented writer, director and, Martin Beaumont won the Time Out's Critics Choice for his show Sunspots and has also written 60 shows for popular children's production Professor Bubble.
He also appeared as a presenter on Channel 4's Collectors Lot, three runs of the BBC's Comedy Nation and the LWT series 'Red Handed as well as various dramas. Top stand-up comedian Martin Beaumont is currently writing a new series for network TV.
Testimonials of Martin Beaumont
Martin Beaumont's performance was fantastic - the guests very much enjoyed his performance and he was kind enough to personalise his set for us. Thank you Comedy Club
The Comedy Club Limited do not act as a forwarding address for any of the artistes listed within this website. Due to the Data Protection Act, under no circumstances do we issue any artistes contact details or accept requests for autographs or deal with journalistc enquiries unless the artistes in question have been secured through The Comedy Club for your event.