KAREN BAYLEY
I saw her recently and she blew my socks off. She doesn't dwell too much on "lady issues". Funny in her own right, she was brilliant, clever and she's gonna be huge - BBC Online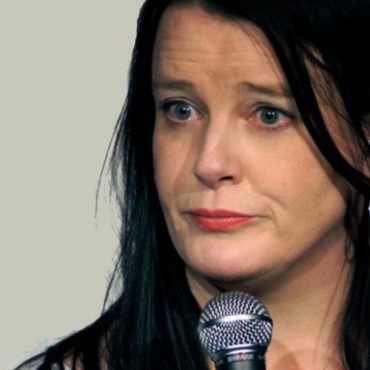 Watch Video
Book This Comedian
From her earliest appearances, stand-up Karen Bayley was clearly something special.
Delightfully saucy, her friendly and confident stage presence, combined with a killer wit, an infectious giggle (or boom depending on her levels of excitement) and some devastating one-liners make her a comedic force to be reckoned with.
Warm and welcoming but also slightly scary with that delightfully saucy and spiky edge, her bold, no nonsense attitude strikes a perfect pitch with men and women alike, while her self-penned material surprises and delights with its variety, combining inspired and sparkling punchlines, with a sense of comic timing that is little short of brilliant.
Equally at home compering or as a headline comedian, on her own or as part of a team, in 2004 Karen Bayley made her debut at the Edinburgh Festival with Susan Murray, and walked away with glowing reviews and a big smile on her face.
Already popular at stand-up venues up and down the country and a favourite of The Comedy Club, Karen Bayley proved she's ready to step up as one of the nation's premier performers when she signed to leading comedy stable Comic Voice Management, already home to some of the brightest comedians in the business of which Karen Bayley is clearly one.
On television, as well as enjoying the accompanying coverage for those two BBC Best Comedy awards, she has appeared on two aptly titled shows for our Karen - The Last Word on ITV1 and Sex on the Job for Sky 1 and been a talking head on those ubiquitous Channel 4 countdown shows including 100 Greatest Cartoons where she got paid to watch cartoons for the day.
Demonstrating a rare serious side, Karen also appeared in the award-winning docu-drama Longford about prison reformer Lord Longford, first shown on Channel 4 in 2006.
On radio, Karen Bayley has demonstrated both a two-way mutual love of the BBC and a clear lack of regional bigotry with appearances on shows with the top man or woman of the airwaves around the country - The Malcolm Boyden Show (BBC Radio Wm), The Fred Macauley Show (BBC Radio Scotland), The Michelle Mallone Show (BBC Greater Manchester Radio), The Martin Kellner show (BBC Radio Leeds) and The Jimmy Franks Show (BBC Radio WM).
UPCOMING EVENTS
Karen Bayley will be performing at the following events, don't miss out.
Testimonials of Karen Bayley
I saw her recently and she blew my socks off. She doesn't dwell too much on "lady issues". Funny in her own right, she was brilliant, clever and she's gonna be huge
Bayley's material surprises with inspired and sparkling punchlines…with comic timing that is rarely less than brilliant. An assured performer who doesn't have much trouble getting audiences laughing.
Likeable headstrong persona- packing a considerable performing punch
Just to say would you please pass on my enormous thanks to Karen for last night...Karen was brilliant and a huge success, I had some great feedback
I'd just like to say I'm so glad I did this, Karen Bayley was great and she had the guests roaring with laughter. It was nice that she incorporated the personal info I sent over too. Plus I have to say that dealing with you has been very easy, you've always been quick to reply to my emails and very helpful. I knew exactly what was expected and when and compared to some other people I've worked with during the wedding planning you have been one of the best!
The Comedy Club Limited do not act as a forwarding address for any of the artistes listed within this website. Due to the Data Protection Act, under no circumstances do we issue any artistes contact details or accept requests for autographs or deal with journalistc enquiries unless the artistes in question have been secured through The Comedy Club for your event.