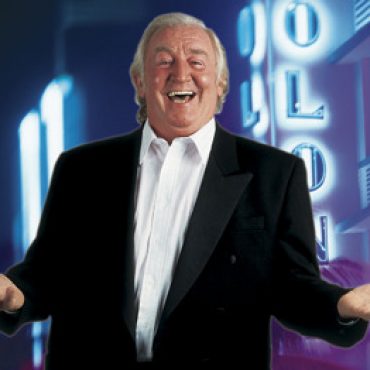 Book This Comedian
Jimmy Jones is a modern day comedy phenomenon. In a career of nearly 50 years he has managed to secure his name as one of Britain's most successful live comedians despite never - or almost never - appearing on the nation's TV screens. And that includes the numerous satelite and digital channels specialising in stand-up comedy.
The reason for such an oversight? Depending on what mood he's in Jimmy Jones himself will claim that it is because television producers are worried about his reputation for risque and near the knuckle humour while he, as a self-styled artiste who "takes no prisoners" has refused to tone down his comedy, particularly some of the non-PC material, which would have censors and campaign groups setting their phones alight.
The man himself says: "It never ceases to amaze me - I'd never do anything over the top on TV. I've got 12 grandchildren and would never do anything to offend them. It's particularly ironic when you consider that I've appeared on live programmes and never caused any problems."
His attitude and humour is perhaps best summed up by his censor-baiting catchphrase "'kin 'ell!", which Jimmy claims is short for "blinkin' hell" with more than a hint of irony. It is that self-deprecating "nice guy" persona that has saved him from some of the bile and criticism reserved for some of his less enlightened contemporaries like Bernard Manning, Jim Davidson, Stan Boardman and Roy "Chubby" Brown, and usually deservedly so.
Jimmy Jones also boasts an impressive singing voice, having once worked extensively with Matt Monro, and delights in interacting with his audience, as happy to take the cheek as give it out.
It is all a long way from his early years when Jones allegedly trained to be a priest, before having his own Road To Damascus moment when he became first a cabaret singer, and then an occasional amateur comedian before taking the plunge and turning professional in 1962.
Top-Stand-up Jimmy Jones soon became a regular attraction entertainment pubs like The Montague Arms in South London and even rock venues like The Royal Standard, in Walthamstow, which is still with us today. It was at places like the Standard that Jones would have come to the attention of rock bands like Iron Maiden, Status Quo and The Rolling Stones, all of whom have named him as one of their favourite comics. Another fan bizarrely is American actor Tom Selleck best known as Magnum, TJ Hooker and one of the stars of Three Men And A Baby.
Sadly, it was also seeing Jimmy Jones on stage at the Montague Arms which made a young freckle-faced Jim Davidson want to enter the world of comedy, after "watching meekly from the front row week after week".
But comedian Jimmy Jones' appeal has always been all-encompassing, even taking in some of the people he professes to hate. He once went on tour with reggae band the Equals, featuring Eddy Grant among others - something Jimmy likes to tell those critics who have accused him of racism over the years.
At the peak of his popularity, Jimmy Jones performed up to 275 nights of the year, both at his own headline shows or supporting established acts like Chas 'n' Dave.
Despite or perhaps because of a lack of TV exposure, Jimmy was one of the pioneers of the comedy video. It was a natural development, following the success of albums and cassettes of his live shows during the 1970s. With titles like Live At Kings Club, It Could Happen and All the Breast, these were largely self-published recordings designed to be sold at his gigs, and as such soon became quickly copied and highly collectible. The officially produced Live From the Talk Of East Anglia notched up sales of 100,000 copies, and was awarded a gold disc.
His debut video Live at Kings, Eastbourne was released in 1982, and included songs as well as stand-up routines, and sold more than 75,000 copies through his live shows alone before getting an official reissue by Polygram in 1993. During the 1990s, follow-ups like A Cultural Night Out, Harder and Faster and Twice As Outrageous were also big sellers.
Despite the stand-off between himself and what he sees at the blinkered TV establishent, Jimmy has enjoyed sporadic appearances over the years, in shows such as The Comedians, The Freddie Starr Show, Six O'Clock Live and Battle Of the Comics. He was also interviewed about his life and work for the late-night ITV series Funny Business.
In 1986 Jones made a triumphant debut in Las Vegas, followed by a sell out season at the Strand Theatre in London's West End in 1989. The following year Jimmy was the surprise winner of Comedian of the Year gong in the Daily Mirror's prestigious Club Mirror awards. He was the first "non TV" comic to win the award, with previous winners having included Lenny Henry, Freddie Starr and Bob Monkhouse. In 1991 Jimmy fulfilled a personal ambition when he played a sell out one-man show at the London Palladium.
Now dividing his time between shows between his country pile in Essex and a holiday villa in Spain, Jimmy has also gone corporate in the twilight of his career via an act he calls The Alternative Jimmy Jones. As a big supporter of a variety of charities and much in demand for after dinner speeches etc, he came up with the idea for a show to satisfy more refined tastes. The result is an amusing collection of showbusiness stories and anecdotes which, while still not quite Enid Blyton is something of a departure from usual style.
Who knows we might even see him on television again.
During over 40 years of outrage, Jimmy Jones has been widely regarded as one of Britains most successful live comedians. Before turning professional in 1962, Jimmy established himself as an amateur comedian around the London pub circuit, wowing audiences with his very own brand of risque humour. His act is legend in an industry which knows him as an artiste who 'takes no prisoners'.
The late, great Benny Hill once said to Jimmy after seeing his act 'if you saw my hand moving under the table, it was the fact that I was jotting down your act- nothing else!'. Another big fan is Jim Davidson, who has revealed that Jimmy is his biggest influence and it was seeing Jimmy on stage at the Montague Arms which made him want to enter comedy. Says Jimmy "I always remember seeing Jim as a young freckle faced kid who sat meekly in the front row week after week- you wouldn't have imagined in a million years that he would go on to be one of our finest comics. Many celebrities and rock bands cite Jimmy as their favourite comedian, including Tom Selleck, Status Quo, The Rolling Stones and Iron Maiden.
Despite a huge following, Jimmy is rarely seen on tv these days. This is largely due to the fact that television producers are worried about his outrageous reputation. Says Jimmy "It never ceases to amaze me- I'd never do anything over the top on tv. I've got 12 grandchildren and would never do anything to offend them. It's particularly ironic when you consider that I've appeared on live programmes and never caused any problems". Despite a lack of tv appearances, Jimmy was one of the pioneers of comedy on video. His debut video "Live at Kings, Eastbourne" released in 1980, which has never been available commercially, has sold over 75,000 copies at Jimmy's live shows.
WHAT THE COMICS SAID:

"If you saw my hand moving under the table, it was the fact that I was jotting down your act- nothing else!" - Benny Hill
WHAT THE CRITICS SAID
"Outrageous filth!" - The Guardian
"Brilliant - I never stopped laughing. British humour at its best!" - Garry Bushell, The Sun
The Comedy Club Limited do not act as a forwarding address for any of the artistes listed within this website. Due to the Data Protection Act, under no circumstances do we issue any artistes contact details or accept requests for autographs or deal with journalistc enquiries unless the artistes in question have been secured through The Comedy Club for your event.