GINA YASHERE
A British rival for Whoopi Goldberg - lively and exceptionally funny - The Scotsman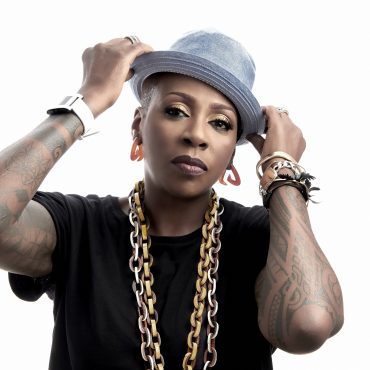 Watch Video
Book This Comedian
Some 15 years after her stand-up debut, Gina Yashere is one of the first ladies of British comedy.
Now 35, Gina is a  TV favourite in Britain through her no holds barred attempt at learning to sing in Comic Relief Does Fame Academy, while in America she was the first-ever British comedian to appear on Def Comedy Jam. But true to her roots, the larger than life Gina Yashere is still at home on comedy club stages up and down the country.
Born in Bethnal Green, east London, to a Nigerian family, comedy wasn't her first choice of career, she initially started out as a lift engineer.
Stand-up Gina Yashere made her comedy debut, at the tender age of 20, at the Edinburgh Festival of all places and has never looked back since.
Just a year later she was a finalist in the prestigious Hackney Empire New Act of the Year competition and by 2000 she had completed her first nationwide tour.
Using her combined roots of a London teenager with Nigerian parents, Gina Yashere has offered audiences, both black and white, a unique insight into life as both a cultural insider and outsider and never fails to entertain with her acute observations and rapid-fire one-liners.
Posturing cheerfully in a pulled-up hoodie, she spits out her greetings like a pumped up performance poet, Gina Yashere's bombastic delivery and infectious personality wowing audiences not just in the UK and the US but also in Australia, Canada, South Africa, Japan, Dubai, Hong Kong, Singapore and all over Europe.
Comedienne Gina Yashere's first TV exposure was as a regular on the BBC Two comedy show Blouse and Skirt (originally called The A Force) in 1996 before appearing in The Lenny Henry Show, where she played Tanya and Mrs. Omokorede, the pushy Mum as well as voicing Keisha on Bromwell High.
In 2005, she won the hearts of a nation via those "singing" performances in Comic Relief does Fame Academy, and in 2006 & 2007 she co-hosted the MOBO Awards alongside Akon & Coolio. Gina Yashere has also made numerous appearances on Mock the Week, Jo Brand's Hot Potatoes and talking heads shows such as the I Love...series for BBC Two. She has also hosted a BBC Choice chat show, Up Late With Gina Yashere and the children's CBBC show Gina's Laughing Gear.
In 2007, Gina Yashere set out to achieve that rare dream for a British comedian, when she broke into the American comedy scene. She grabbed a foothold with appearances on NBC's Last Comic Standing (NBC), having qualified via the Sydney, Australia auditions, and eventually made it to the final 10, going out in the semi-finals.
Just a year later, she became the first British comic to appear on the influential black stand-up show Def Comedy Jam, and by September 2009, Gina Yashere was appearing on The Tonight Show with Conan O'Brien as a stand up comedienne and in October the same year she appeared on The Jay Leno Show, showing a video of herself giving free fortune readings to people on the street via a walk-in psychic booth.
On December 24 Gina Yashere was back in Blighty for an appearnce on the BBC's Live at the Apollo.
Although now largely based in the States, Gina Yashere remains one of the most highly sought after comics in both the UK and the US, selling out theatres all over in Britain and making numerous appearances on TV, radio, and the big screen, including feature films Kiss Kiss Bang Bang and Mr In Between. She has also appeared on the West-End stage in The Vagina Monologues. Radio outings have ranged from her own BBC Radio London show to critically acclaimed radio sketch show The Powder Room.
Having lost five stone in recent times, she also found time to release her third DVD, the critically acclaimed Skinny B*tch, and pick up a third consecuitive award in a row for Best Female at the UK Black Entertainment & Comedy Awards.
Gina Yashere has recently finished filming a new TV series in the UK , Married, Single, Other, to be aired on ITV early in 2010.


Testimonials of Gina Yashere
A British rival for Whoopi Goldberg - lively and exceptionally funny
Yashere is a shrewd entertainer and knows exactly what buttons to press to keep her audiences happy. With a little bit of politics, a little bit of the personal and a good smattering of knob gags, her pick 'n' mix material has something for everyone. It's not hard to see why she has retained her position as 'that woman off the telly' or why she keeps getting flown to war zones to perform gigs for Our Boys
The Comedy Club Limited do not act as a forwarding address for any of the artistes listed within this website. Due to the Data Protection Act, under no circumstances do we issue any artistes contact details or accept requests for autographs or deal with journalistc enquiries unless the artistes in question have been secured through The Comedy Club for your event.