GERRY K
Gerry K was fabulous – super entertainer and a lovely guy. We're all still talking about the evening and remembering some of his jokes – very very funny :o) star player – hope to seem him at 'Live at the Apollo' soooooooooooon. Cheers and thanks again. - Proctor & Gamble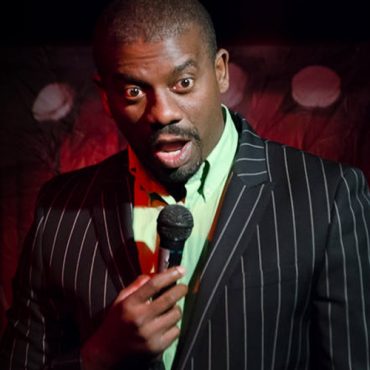 Watch Video
Book This Comedian
Gerry K
Gerry's comedy career started out as an actual result of a dare! It wasn't long before Gerry was headlining all the major comedy clubs across the UK. Along his journey he scooped several worthy comedy awards including, The Comedy Store's 'King Gong' Hailing from rural Essex and when growing up, a rare black face in a near totally white area (defiantly not your stereo typical Essex boy image) Gerry brings to life his very own perspective on the matter. On the corporate circuit, he is a very popular choice of act partly due to his upbeat, energetic and likeable personality. Described as 'Anecdotal, observational and refreshingly honest' in style, an evening in his company is defiantly not one wasted.
Credits
ITV
- The Bill |
Channel 5
- Angelo's |
BBC Nottingham
- The Breakfast Show
Gerry K was fabulous – super entertainer and a lovely guy. We're all still talking about the evening and remembering some of his jokes – very very funny :o) star player – hope to seem him at 'Live at the Apollo' soooooooooooon. Cheers and thanks again.
Gerry was hilarious – lots of laughter when he was on!
Gerry was fab and everyone thought so. He was very patient when things moved to the right slightly. I have only heard good things from the night and my boss thought he was very good and he is hard to please. Thank Gerry on mine and my guests behalf, he was fab.
The Comedy Club Limited do not act as a forwarding address for any of the artistes listed within this website. Due to the Data Protection Act, under no circumstances do we issue any artistes contact details or accept requests for autographs or deal with journalistc enquiries unless the artistes in question have been secured through The Comedy Club for your event.