ANIL DESAI
Anil was great! He really entertained the audience, ..they really liked his impressions .. he was a brilliant host! - East meets West - Fundraiser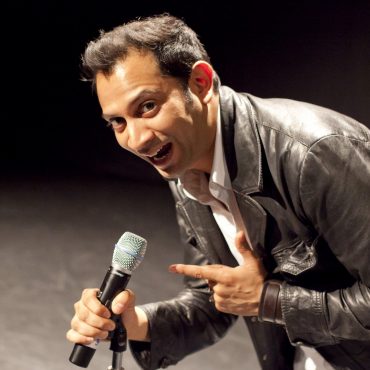 Watch Video
Book This Comedian
Anil Desai is a comedian/impressionist who performs an awe-inspiring , audience interactive show where he impersonates 52 famous faces in 5 minutes using names on a deck of cards. 
Like a celebrity filled, one-man 'Whose line is it anyway?' he performs a number of famous icons from Hollywood to Cartoon (incl. Nelson Mandela, Tom Cruise, Denzel Washington, Robert De Niro, Homer Simpson, and many many more) - From Al Pacino's wide eye stare to Johnny Depp's manic moves to suggestions from the audience in quick fire succession with hilarious results using his plethora of impressions and in the words of the Edinburgh Evening News following his 2010 show 'Hey, Impressions Guy'...'It's not just clever but utterly hilarious... one to watch'.

As seen in:
'Orrible BBC, The Bill ITV The Belief Files BBC Scotland Various Goodness Gracious Me BBC1 Sketch Mini Series BBC 4

Testimonials of Anil Desai
Anil was great! He really entertained the audience, ..they really liked his impressions .. he was a brilliant host!
A tour-de-force of impressions .. .side-splittingly funny ... his ability to change his face, voice and physicality is undeniably astounding
The Comedy Club Limited do not act as a forwarding address for any of the artistes listed within this website. Due to the Data Protection Act, under no circumstances do we issue any artistes contact details or accept requests for autographs or deal with journalistc enquiries unless the artistes in question have been secured through The Comedy Club for your event.