AL MURRAY
I laughed so much, lager came out of my nose. - The Sunday Times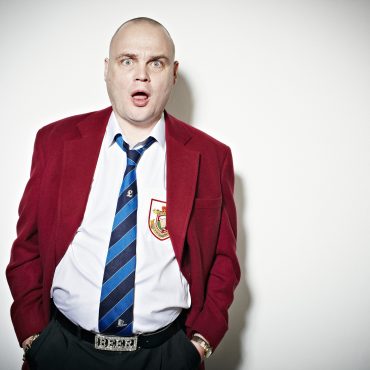 Watch Video
Book This Comedian
Al Murray is instantly recognisable as character comedian The Pub Landlord. 
His most recent TV series called ' complete for Meat' see's teams compete to win the grand prize of a frozen chicken! Al's Award winning series ' Al Murray's Happy Hour ' has won over viewers and critics, with his no holds barred treatment with his celebrity guests. Al is also one of only a select few comedians to be approached by ITV to star in two audience with's Time & Gentlemen Please aired on Sky One has now become a classic series. Al Murray's Multiple personality Disorder seen on ITV saw him present a lot of new characters, which showcased his vast comedic range.
Other TV appearances include the Royal Varity Performance which he has done three times for ITV, along with presenting Live At The Apollo for BBC1 and Edinburgh & Beyond for Paramount comedy channel, and his show Fact Hunt for ITV. To date Al has successfully released six live DVD's - DVDs My Gaff, My Rules, Glass of White Wine For The Lady, Giving it Both Barrels, Live At The Palladium, The Beautiful British Tour and Barrel of Fun.

When not in Character, Al Murray is the presenter of the ' 7 Day Sunday' show for BBC Radio 5, which climaxed with its third series. Al has also worked with BBC 4, presenting his series Al Murray's German Adventure, which in itself is a  historical look at the art and culture of Germany. He also kicked off back in 2012 with a new radio show for BBC Radio 2 called with Al Murray's New Year Resolutions, along with personal appearances on QI for the BBC, What's so Funny for Channel 4, That Sunday Night Show with ITV, Frank Skinner Opinionated BBC2, Have i Got News For You BBC and finally The road To Berlin which was a 10 episode programme on WW11 for the Discovery channel.

Al Murrays array of stand – up tours without doubt has made him one of the most prolific acts  in the UK today, which constantly sell out. Al has also appeared at the O2, and been awarded the Perrier Award after four nominations. He has also has Olivier Award nominations for his celebrated sell –out London West End shows. Across the other side of the world, Al has a great reputation with sell –out shows in Melbourne, Sydney, Montreal and New Zealand.

Credits
BBC
- Live at The Apollo |
ITV
- Al Murrays Happy hour |
ITV
- Time & Gentleman Please |
ITV
- The Royal Variety Performance
Testimonials of Al Murray
I laughed so much, lager came out of my nose.
A supremely polished performer
The Comedy Club Limited do not act as a forwarding address for any of the artistes listed within this website. Due to the Data Protection Act, under no circumstances do we issue any artistes contact details or accept requests for autographs or deal with journalistc enquiries unless the artistes in question have been secured through The Comedy Club for your event.